Please note that Whitby Community Network hosts the following information for "20s Plenty for North Yorkshire".

20s Plenty for North Yorkshire : Speed Review
The Highways Authority with speed limit powers is North Yorkshire Council (NYC). The NYC Speed Review, promised since November 2022, is due to be presented to the Executive on Tuesday 20th June. 20's Plenty requested a draft of the NYC speed review on 18th May 2023. Cllr Keane Duncan refused on 23rd May 2023. He wrote to say the NYC review is compliant with DfT speed limit circular written in 2012, which is out of date by a decade and doesn't factor in Welsh and Scottish policy for National default 20mph.
Our proactive response is to prepare this 20's Plenty for North Yorkshire Speed Review informed by expert evidence on current best practice. Plus we invite consultation comments.
28 million people in the UK enjoy a default 20mph limit signed policy. 149 Parishes in North Yorkshire and the Harrogate and Selby Area Committees for North Yorkshire Council (totalling the majority – 53% of residents represented passed supporting motions for 20mph as default: see the list of parishes.
20's Plenty for North Yorkshire are consulting widely for comments by Friday 7 July 2023 : see the list of consultees.
What do communities want?
Public engagement undertaken by local campaigns and parish councils indicate consistently significant majorities of respondents in North Yorkshire's communities want 20mph as a norm in settlements. Not a "blanket". Some roads can be set at higher limits, where the needs of vulnerable road users are safely met. Default 20mph is United Nations (UN), World Health Organisation (WHO) and Public Health England best practice policy, and for the UK under the Stockholm agreement. The Department for Transport agrees to safe systems too of which wide area 20mph is key.
Locals understand how higher vehicle speeds blight communities and inhibit their ability to walk, cycle and use public transport. They know lower speeds save lives and reduce pollution and appreciate that 20mph can be the cornerstone of building inclusive communities – safer, quieter, cleaner, more economically thriving, better places to be. In successive UK government surveys, 70% said that 20mph was the right speed limit for residential streets. Nowhere in the UK with default 20mph has reversed it. Support grows.
Cornwall, under the Conservatives, won with a manifesto promise of 20mph. It is going default 20mph with support from 135 Town councils. 76% of residents supported it in Falmouth-Penryn and 85% in the more rural Camelford area after implementation. £3.8M is allocated for a phased programme through to 2026 – see this link. £3.8M/578,000 people = £6.50 per head. Read the case for 20mph across Cornwall. Chances of survival if struck at 20mph (90%) are much greater than 30mph (50%), negligible effect on journey times, more cycling and walking, less pollution and it's popular.
Why Community 20mph is a sound investment in North Yorkshire
In successive UK government surveys, 70% say 20mph is the right speed limit for residential streets. 149 Parishes and NYC's Harrogate and Knaresborough, and Selby and Ainsty Area Committees have voted for 20mph as the norm, representing well over 50% (over 300,000) of the County's residents. That support is a key factor in such community-wide limits being effective. Many councillors implementing 20mph as a norm around the country say it is the most popular intervention they have made.
Liveability of communities
Quality of life improves, which is why 20mph is popular. Places become safer, healthier, quieter, cleaner, better for everyone. Less danger leads to 20% fewer road casualties and less fear.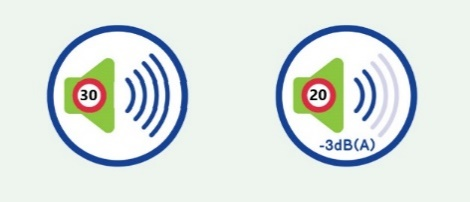 In urban and village areas it is the acceleration that most determines the fuel used and emissions. As it requires over twice as much energy to reach 30 mph as 20 mph then a lower limit saves energy that would be wasted whenever slowing down for hazards, traffic, corners, etc. and going faster than 20mph makes little difference to journey times within towns and villages. Lower speeds make it far more attractive to walk or cycle to local shops and facilities rather than using fuel in a car.
Freedom of choice increases for the young, elderly to walk (or cycle) to school, shops, grandparents, friends. Horse riders gain freedom to use more routes with less fear of fast traffic.
This wide-area intervention has minimal costs yet has reach across the whole county.
Future generations benefit from spending capital wisely with returns that stay within the county.
Less aggressive driving means fewer potholes to fill.
How is North Yorkshire Council performing?
North Yorkshire and York's killed and serious injuries (KSI) – red and amber above – are not improving on 30mph roads (those likely to go 20mph). Driver & rider injuries are shown. See this link for further details.
Separating out North Yorkshire's 30mph roads (excluding York) – 30mph roads are unsafe and not getting safer.
In 2018, of 523 total casualties, 68 were killed or seriously injured, with a KSI adjusted of 102.
In 2019, of 404 total casualties, 59 were killed or seriously injured, with a KSI adjusted of 86.
In 2020, of 385 total casualties, 59 were killed or seriously injured, with a KSI adjusted of 85
In 2021, of 413 total casualties, 58 were killed of seriously injured, with a KSI adjusted of 85.
See also this Department for Transport link.
How can North Yorkshire Council respond?
North Yorkshire Council can recognise the multiple benefits of lower speeds and its links to other agendas such as improving air quality, reducing CO2 emissions and noise, its benefit to active travel, and consider how best to implement default 20mph to maximise compliance. 20s Plenty provide a rollout blueprint.
20's Plenty for North Yorkshire call for wide area 20mph with social marketing as a 3-4 year County-wide programme starting as soon as possible in Whitby (13,000 people) where a school is proposed to close – meaning children will walk further, and the Harrogate and Knaresborough Constituency area (100,000 people), and then rolled out across the County.
Costs & Funding: A one-off £5 per head is typical. Calderdale spent under £4 per head. Cornwall allocated £6.50 per head. Funds can be obtained from Department for Transport, active travel funds, community infrastructure levies, reserves and more with public health expertise for social marketing.

See more on the 20s Plenty Cost Benefit Calculator.
In North Yorkshire: A total cost of £2.4m on 20mph signed limits and social marketing could prevent 65 casualties per year (£3.4m benefit in prevention).
Questions? see the 20s Plenty 20mph FAQs.
Consultation Methodology
This 20's Plenty for North Yorkshire Speed Review was a PDF sent by email & google forms on 24 May 2023. Replies were requested by
7 July 2023. The consultation is available on this link. The consultation asks for the following information
Name
In what capacity are you answering this consultation? (delete as applicable) county councillor, town/parish councillor, school, representative of a group, resident, campaign group, road safety expert group name / division / parish (if you represent one)?
Do you support the policy outlined in this speed review – default 20mph limits for North Yorkshire's villages and towns, with exceptions to 30mph where it is safe to do so phased over 3-4 years costing a one off £5-10 per head?  YES, NO, Don't Know
If there are aspects of this speed review you don't understand or don't agree with – please state them.  (but please do read the 20s Plenty 20mph FAQs first)
Do you have any comments for Cllr Keane Duncan, the Exec Member for Transport? For instance, on why you need 20mph limits where you live?
Your Email to join the 20's Plenty for North Yorkshire email list for regular updates/to join us for free?
Phone number if you'd be happy to give it, for example, for press comment?
List of Parishes with Default 20mph supporting motions passed
18 in Selby District : Selby Town Council, Burton Salmon, Church Fenton, Ulleskelf, Wistow, Saxton-cum-Scarthingwell, Lead, Hambleton, Hillam, Monk Fryston, Kirk Smeaton, Beal, Byrum cum Sutton, Sherburn-in-Elmet, Barkston Ash, Drax, Hemingborough, Barlby & Osgodby Town Council (one parish).
9 in Scarborough District: Whitby Town Council, Hutton Buscel, Hunmanby, Lythe, Reighton & Speeton (single parish), 3 parishes (Mickleby, Barnby and Ellerby), Muston.
33 in Harrogate District : Sicklinghall, Felliscliffe, 5 parishes making up Mid-Wharfedale (Nesfield-with-Langbar, Middleton, Denton, Askwith and Weston), 4 parishes (Grantley, Sawley, Eavestone & Skelding Parish Council), 3 parishes making up Fountains Abbey (Studley Roger, Aldfield, Lindrick with Studley Royal and Fountains), 3 parishes making up Skelton cum Newby (Skelton-on-Ure, Newby with Mulwith, Givendale), Weeton, Langthorpe, Whixley, Sharow, 2 Parishes (Staveley and Copgrove), Bishop Thornton, Shaw Mills & Warsill (one parish), 2 Parishes (Tockwith with Wilstrop), 2 Parishes (Goldborough & Flaxby), 2 Parishes (Haverah Park with Beckwithshaw), 3 Parishes (Little Ouseburn, Kirby Hall, Thorpe Underwood), Kirk Hammerton Parish Council, Lower Washburn (which covers the parishes of Castley, Lindley, Stainburn, Farnley and Leathley).
30 in Hambleton : Great Ayton, Thornton-le moor (including Thornton-le-street – 2 Parishes), Rudby Parish Council – 4 parishes (also includes Hutton Rudby, Middleton-on-Leven, Skutterskelfe), 2 Parishes share a council: Bagby & Balk, Tollerton, Whorlton, Carlton Husthwaite, Carlton in Cleveland, Northallerton Town Council, Brompton Town Council, Stokesley Town Council, Bedale Town Council, 2 Parishes share a council (Sessay, Hutton Sessay), 2 parishes share a council (High & Low Worsall), East Cowton, Newton-on-Ouse, Great & Little Broughton (one parish), Ingleby Arnecliffe, Shipton by Beningborough, Appleton Wiske,3 parishes (Maunby, Newby Wiske and South Otterington), Myton on Swale.
16 in Richmondshire : West Witton, Ravensworth, Whashton, 2 parishes (Grinton & Ellerton Abbey), Alborough St John, Middleton Tyas, Skeeby, Leyburn Town Council, 2 Parishes (Manfield & Cliffe), Melsonby, 2 Parishes (Stapleton & Cleasby), Bellerby, Caldwell.
17 Parishes in Craven : Skipton Town Council, Settle Town Council, Buckden, Ribble Banks Grouped Parish Council (consists of 3 Parishes: Rathmell, Wigglesworth and Halton West), Draughton, Hebden, Eastby with Embsay (one parish), Gargrave, Stainforth, Cononley, Horton-in-Ribblesdale, Langcliffe, Bradleys Both, Long Preston, Sutton-in-Craven.
19 Parishes in Ryedale : Kirkbymoorside Town Council, Warthill, Scagglethorpe, Settrington, Lockton, Sproxton, Kirby Misperton, Sheriff Hutton, Wharram, Amotherby, Swinton, Broughton, Byland with Wass, Oldstead (2 parishes), Ampleforth, Malton Town Council, Norton Town Council, Burythorpe, Leavening.
Consultee List for Template Speed Management Review
The following were included
All North Yorkshire Council councillors,
Police and Crime Commissioner – Zoe Metcalfe,
North Yorkshire Director of Public Health – Louise Wallace – via chris.sharp@phe.gov.uk,
North Yorkshire Parish Council Clerks where email addresses available,
20's Plenty group leaders and supporters email mailing list in North Yorkshire,
Road Safety Organisations: York and North Yorkshire Road Safety Partnership, RoadPeace, Brake, Action Vision Zero,
Schools in North Yorkshire: 417 (where emails could be found),
Press and media,
All 6 North Yorkshire MPs