Everything in this concern comes under the NYC Portfolio of Education, Learning and Skills, Cllr Annabel Wilkinson.
Whitby and District has a range of primary and secondary educational establishments. These are shown on the following map.
For many years Whitby had Caedmon School and Eskdale School as 11-14 age group schools, with Whitby School (Whitby Community College, Whitby Grammar School) as 14-18. In 2014 Caedmon School and Whitby Community College merged into Caedmon College, and moved to having the 11-16 on one site, and 16-18 on another. The map shows the approximate east side catchment area in purple, and west side catchment area in light blue to give an idea of distance travelling to school for children.
Whitby and District has a range of primary schools to choose from. To give an idea of the current primary schools situation in this area, we have extracted the following (September 2022) from the UK Government website (note that these numbers may not be totally up to date since they are dependent on reporting to UK Government by schools).
| School | Age | Pupils | Places | % Subscribed | Type |
| --- | --- | --- | --- | --- | --- |
| Fyling Hall School | 04-18 | 166 | 200 | 83.00 | Independent school |
| Airy Hill Primary School | 02-11 | 206 | 210 | 98.10 | Multi-academy trust |
| Castleton Primary School | 05-11 | 46 | 56 | 82.14 | Multi-academy trust |
| Danby CofE School | 05-11 | 31 | 70 | 44.29 | Voluntary aided school |
| East Whitby Primary Academy | 02-11 | 228 | 315 | 72.38 | Multi-academy trust |
| Egton CofE Primary School | 04-11 | 48 | 56 | 85.71 | Voluntary aided school |
| Fylingdales CofE Primary School | 04-11 | 75 | 112 | 66.96 | Federation |
| Glaisdale Primary School | 04-11 | 33 | 56 | 58.93 | Multi-academy trust |
| Goathland Primary School | 04-11 | 12 | 49 | 24.49 | Community school |
| Hawsker Cum Stainsacre CofE Primary School | 05-11 | 39 | 84 | 46.43 | Federation |
| Lealholm Primary School | 05-11 | 24 | 56 | 42.86 | Multi-academy trust |
| Lythe CofE Primary School | 03-11 | 66 | 105 | 62.86 | Voluntary controlled school |
| Oakridge Primary School (Hinderwell) | 03-11 | 35 | 42 | 83.33 | Community school |
| Ruswarp CofE Primary School | 04-11 | 87 | 105 | 82.86 | Voluntary controlled school |
| Sleights CofE Primary School | 02-11 | 101 | 105 | 96.19 | Voluntary controlled school |
| St Hedda's Catholic Primary School (Egton) | 04-11 | 37 | 51 | 72.55 | Multi-academy trust |
| Seton Primary School (Staithes) | 03-11 | 89 | 105 | 84.76 | Community school |
| Stakesby Primary Academy | 02-11 | 167 | 230 | 72.61 | Multi-academy trust |
| West Cliff Primary School | 02-11 | 226 | 210 | 107.62 | Multi-academy trust |
| Moorland Waldorf School | 02-11 | 17 | 76 | 22.37 | Independent school    |
In accordance with our transparency policy, this table is downloadable in (XLSX) spreadsheet format.
The catchment for the Whitby and District secondary education is shown below, with primary schools marked with triangles.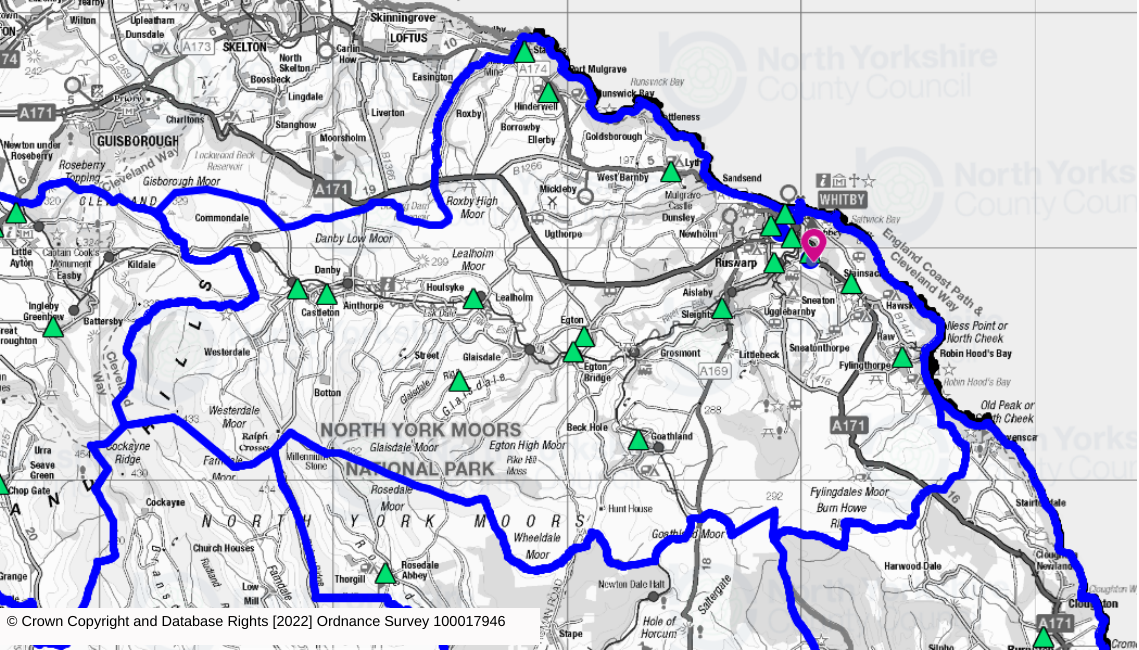 Whitby and District has 3 secondary schools (and 1 private school) to choose from. To give an idea of the current secondary schools situation in this area, we have extracted the following (September 2022) from the UK Government website (note that the numbers for Eskdale and Caedmon College are updated numbers from a Jan 2023 proposal to close Eskdale School, but why they have not updated the UK Government figures you'd have to ask those schools). Please note that we are assuming that Caedmon College (Sixth Form) has 552 capacity, based on when it was listed as Caedmon School; if it has had changes since, we would need to see a revised number, so if you have that information, please let us know.
| School | Age | Pupils | Places | % Subscribed | Type |
| --- | --- | --- | --- | --- | --- |
| Caedmon College (Normanby) | 11-16 | 647 | 987 | 65.55 | Federation |
| Caedmon College (Scoresby) | 16-18 | 136 | 552 | 24.64 | Federation |
| Eskdale School | 11-16 | 406 | 550 | 73.80 | Federation |
| Fyling Hall School | 04-18 | 166 | 200 | 83.00 | Independent school |
In accordance with our transparency policy, this table is downloadable in (XLSX) spreadsheet format.
In terms of history, for many years Whitby had a system of 2 schools (Eskdale and Caedmon) for 11-14 age groups, and then Whitby School for 14-18. This split failed in other parts of the country, as well as more locally in Scarborough and Northallerton. Whitby School and Caedmon School merged to become Caedmon College and eventually moved to a 11-16/16-18 split, whilst Eskdale also moved to 11-16.
As you can see, whilst Eskdale School is currently reasonably well subscribed, with a margin for new pupils (particularly important given the amount of housing development taking place around the school – 500 new homes), Caedmon College (11-16) is only 65.5% subscribed, and Caedmon College (16-18) is worse still at 24.6% subscribed! This is the legacy of the many years when these operated as 11-14 schools, as well as the general housing problems causing issues with retention of young people. At the point of deciding on A-level courses, Caedmon College is losing around 65% of pupils, who get their education outside of the town largely due to absence of a course that they desire.

Looking at the pupil numbers at each site there clearly are problems to resolve, largely based around providing school sites that are suitable for 11-16 and 16+, and why the current 16+ offering is failing local young people. Making a reasoned proposal would ideally require projected numbers of pupils per year for the town as a whole to see if there are any dips/rises in future years to allow for; sadly this is not currently available to us due to lack of transparency.
One thing that the vast majority of residents would agree on is that the future of education in this town does need a strategy, and what is there right now is utterly inadequate.
The following chart shows how well the 3 secondary schools in Whitby have been subscribed since 2010.

Clearly there are issues with the sixth form subscription, with many pupils now opting to go further afield for A-level education; when the YNY LEP state that "Average travel to learn times in North Yorkshire are 40% higher than for the comparator area of West Yorkshire" you can see that very clearly in the Whitby and District area, with many going to Scarborough, Guisborough etc adding an extra hour travel time at the start and end of the day! The rise in Eskdale numbers (and fall in Caedmon numbers) around 2017 were due to the move to 11-16 from 11-14; clearly the capacity of Eskdale School increased at that time also.
Regarding the 16-18 education subscription levels, in 2019 we had Caedmon College and Eskdale forming a Federation, and there being statements like Sir Martin Narey of North Yorkshire Coast Opportunity Area stating "… But nothing has been more important than ensuring that Whitby has a top class sixth form. I am delighted by the outstanding cooperation between Eskdale's and Caedmon's governing bodies and heads, working to bring the two schools together in this way. To ensure the new sixth form is able to match the ambitions of both schools for their students, I'm delighted that the Opportunity Area budget will be used to contribute to a major redevelopment of the new sixth form". Needless to say that was an utter failure, and pupil numbers in the sixth form fell even more. What happened to that funding and why is the management of Whitby Secondary Partnership not capable of providing adequate sixth form opportunities?
In terms the impact of new housing on pupil numbers, the pupil numbers per new residence used by NYCC are (as of 2022) 0.13 secondary school pupils per residence, and 0.25 primary school pupils per residence. These numbers can then be utilised in projecting pupil numbers from any new housing developments. A simple example is taking the new housing from Broomfield Farm (Phase 1 + Phase 2 + NetZero Village) + Green Lane = 600 homes, so that equates to the order of 150 new primary school pupils, and 78 new secondary school pupils.
The following chart shows the forecast numbers of pupils in the 3 secondary schools in Whitby (prediction from start of 2023).

A bit more about the three secondary schools in the Whitby TTWA.
Caedmon College Scoresby site is the largest and built in the 1960s, with around 9.0ha of space of which 7.1ha is for sports (tennis courts, sports hall, all weather pitch, and an array of sports facilities), and full road access for coaches. Large potential to expand due to the amount of land available.
Eskdale School site is the second largest and built in the 1950s, with around 7.5ha of space of which 6.0ha is for sports (3G pitch, Fishburn park pitch etc), full road access for coaches, as well as the possibility of (limited) expansion. Surrounded by residential so ideal location for a school.
Caedmon College Normanby site is the smallest and oldest (1912), with around 4.5ha of space of which 2.3ha is for sports (sports hall, tennis courts, and limited sports fields), listed school building, but no play area, and no road access for coaches.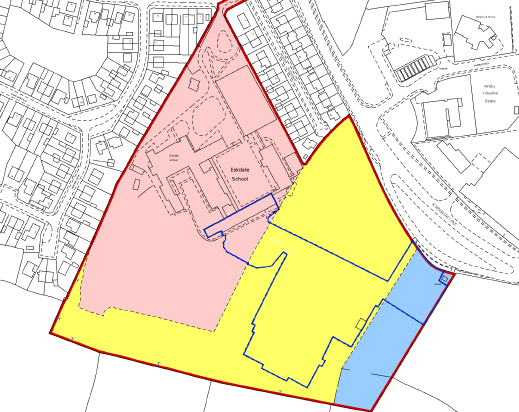 The Eskdale site comprises 1.75ha of buildings, car parking and playground, and 5.75ha of green space. The green space includes a 3G pitch, and the Fishburn Park pitch (assumed to come under the deeds). In terms of the specifics of the Eskdale School land, the map adjacent shows the land registry portions. The area outlined in blue (3G pitch,
plus car park and changing rooms) cannot be sold off without written consent by the Football Foundation.
NYC (when called NYCC) used to offer a large range of adult education classes in the Whitby and District area (under the "evening institute" branding, maybe 20-30 yrs ago). You can find their current offerings in Whitby on this link. In October that search was giving precisely 0 results. Early November we have a couple of computer skills courses in Whitby Library. It's good that there are now a couple of courses possible, but it does say a lot that this is the sum total.

This is clearly not going to motivate adults to have a fulfilling life. It has to be said that the number of courses offered in places like Scarborough, Harrogate etc are only slightly better, so it seems that NYC has given up on provision of adult aspiration. Your only other option is an online course, but then if you do that then surely you could get them from any education provider, and not rely on the local council. Bear also in mind that NYC aim to have people using cars 48% less by 2030, so driving to some far flung location to study something is intended to be even less of an option.

Education Matters in Whitby
An opinion piece by Joyce Stangoe (Rev 05/06/2022) – the views expressed are those of the author.
Whitby's popularity as the quaint North Yorkshire seaside town has never waned since the Endeavour sailed into the Town in 1997 and the number of visitors has kept going up. So much so that visiting Whitby at bank holidays or during the peak season can be a stressful experience. The small narrow streets are unsuitable for the numbers of vehicles and pedestrians, finding a parking space is a difficult for visitors and neigh impossible for some residents, and battling through crowds of tourists to do your weekly shopping has driven residents to the out of town supermarkets.
We are all aware of the housing crisis for residents in Whitby and the surrounding villages, with a lack of suitable quality, size, and affordability (rented or purchased) for local people and key workers. Local Authorities and the Government fail to recognise the long-term impact this is having on communities and small towns such as Whitby, namely we no longer have enough people living in the area to fill the jobs or children to keep all the local schools going, and public transport and general services are being cut even further.
The following document "Celebrating our distinctive heritage – North Yorkshire LEP/Historic England states under a section entitled "Places need People" "Historic places should not be theme parks. The activity, energy and decisions of people have shaped them over centuries; if they lack functioning economies and communities, they lose some of their meaning and much of their vitality. While the visitor economy is undoubtedly important, and a market with real potential for enhancement, it cannot be prioritised over ensuring the region's places are as resilient, economically sustainable, and attractive to people who want to live and work locally. Similarly, places need to work for everyone. North Yorkshire has an ageing population, so in addition to ensuring the right facilities and housing types are available to cater to the needs of this community, creating the right conditions to enable younger people to stay in and move to the region's towns is critical" – this sums up the situation regarding Whitby.
Having education in an area helps people think, feel, and behave in a way that contributes to their success, and improves not only their personal satisfaction but also their community. Education in Whitby seems to be in difficulties, we have extremely limited adult educational facilities, employing senior management for the three senior school vacancies I understand has not been without its challenges, and surely funding must be an issue when there are 774 spare places as shown on the Government website. The Whitby & District junior schools also show a large number of schools underutilised at present. The sixth form college figures are not recorded separately but are reportedly low, with many young people having to travel 40 plus miles per day to access schools and colleges with courses they need to access to progress on to further education.
I would query why the Authorities with funding from companies such as Sirius Mining decided to build a new University Technical College in Scarborough with the capacity to take 600 pupils aged 14 – 18. The latest government information shows this has only 135 pupils with an Ofsted rating "Good" recorded from the last inspection in 2022. Could this not have been incorporated into Whitby Sixth Form college, saving building costs and reducing our carbon footprint? Surely if we are moving young people to other schools for specific subjects, we could have used the same transport to bring pupils in the opposite direction!
"Up to 85 per cent of North Yorkshire is classed as 'super sparse', this presents a set of key challenges with regards to education provision" the North York's Rural Commission established in 2019 by North Yorkshire County Council stated. "North Yorkshire has the highest number of small schools in England, however rural schools perform well, achieve better educational outcomes than urban children, yet the children are less likely to go on to further and higher education when they leave school. The sustainability of rural schools is largely attributable to falling pupil rolls, financial difficulties and schools' standards and are at risk of closure."
The Commission believes that "the Department for Education must revise its National Funding Formula to ensure increased support for rural super sparse secondary schools. The County Council must lead on pioneering a two-stream educational system post GCSE in rural and remote areas, with one stream focusing on vocational education while the other remains academic. The County Council and the York and North Yorkshire Local Enterprise Partnership must strengthen the offer for post-16 education and provide a better sense of future for young people" – surely, we should be looking at fully using our Whitby Sixth Form college as a centre of excellence bearing in mind the jobs and associated training required in Whitby.
Scarborough Borough Council have put forward a Whitby Maritime Skills Academy under the Town Deal fund costed at £10 million pounds, which will "deliver a new maritime skills facility in Whitby to provide training and certification for the maritime, offshore and renewable energy sectors, building upon the recent successful diversification of the fishery industry training school." It is proposed this facility be built on Endeavour Wharf and will include a training facility incorporating the existing Fishing school, presently located in the Seaman's Mission, requiring more bespoke facilities to be built at a second location to provide specialist training environments such as for working at height, working in confined spaces, fire-fighting, and water survival pools. It states, "Investment in skills and training provision is crucial to delivering the vision for the town and is a key focus of the proposed interventions within the skills and enterprise work-stream," but is this the best way to invest £10M for the future of our young people in the area, or is there a better alternative?
As far as I am aware since this Maritime Academy project was proposed there has been virtually no consultation with local people or businesses, apart from the Project Group personnel, so I would ask:
Maritime Academy : Incorporation into an existing college?
Why can this facility not be incorporated into the Sixth Form College, using the £10M to include more education-related activities relevant to the area's requirements including the Maritime facility? The site is large enough to incorporate the survival pools and height training apparatus and is within walking distance of the harbour, thus saving on building and environmental costs. There are only 135 pupils on a site with capacity of over 500.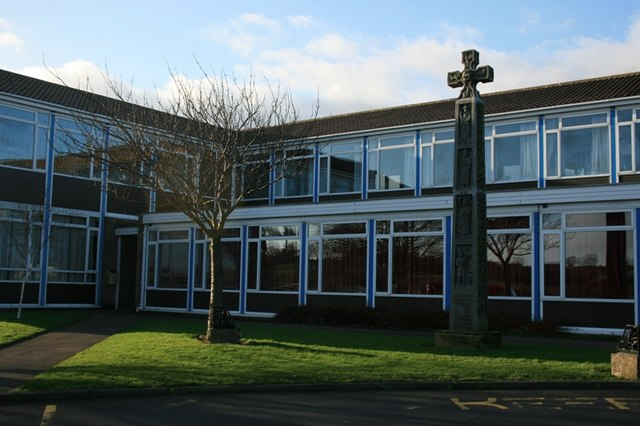 Maritime Academy : Suitability of location?
It is not known if Endeavour Wharf is suitable for the type of structural development proposed, the Dalby Offshore building proposed is not in keeping with the Conservation area. The previously mention HE report recommends "The region's coastal towns need to evolve to increase their success and ensure their renaissance, and that will inevitably require some change. To ensure that value is captured locally, it will be critical to plan for how and where this could take place, retaining the fabric and character of historic harbour infrastructure and avoiding adverse change to the setting of the iconic seafronts."
The harbour is at present subject to a court case, but surely the long-term future of this setting should be for an urban park, due to Whitby's shortage of green open spaces with fishing and tourist related activities encourage, not an extra-large building consisting of offices and school rooms.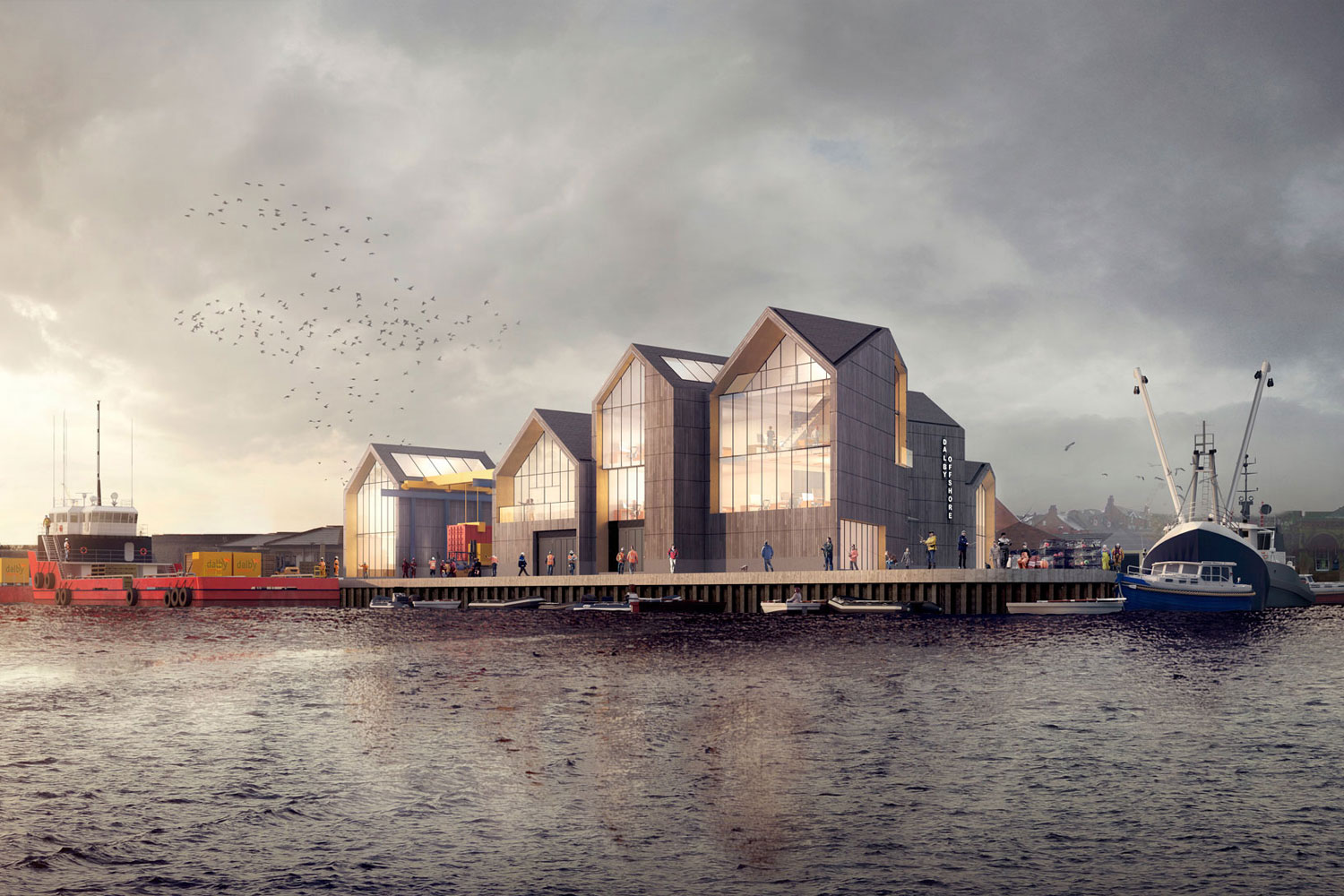 The Seaman's Mission, the present location of the Fishing school, will no longer be viable once this facility has been relocated, surely a heritage building close to the harbour could be used for office facilities for partners of the Maritime Hub if required. Shell UK, one of the possible partners for the Maritime Academy, have already announced they are pulling out of plans to extract gas from two fields in the sea off North Yorkshire so we understand will no longer require any office facilities.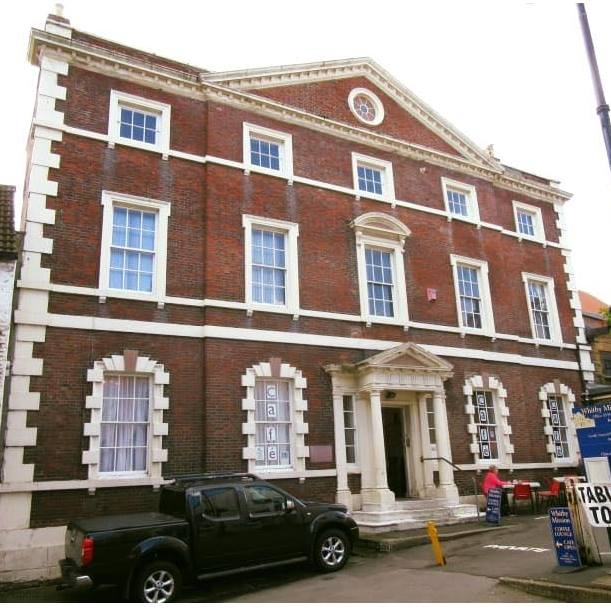 Maritime Academy : Justification?
What is the justification for a Maritime Academy at Whitby when there are already the following training groups on the East coast? South Shields Marine School, Anglo-Scottish Sea fish & Seafood Training Association Amble, RelyOn Nutec UK (Formerly Falck Safety Services) – Maritime & Offshore Training Teesside, Humber Maritime College, Immingham & East Coast Maritime Training Withernsea