The development of a parish needs a strategic plan, to meet the needs of the community. For many years the views of the Whitby and District resident have not been taken into adequate consideration by councils, either skipping out consultation from particular aspects of development, or just ignoring residents views completely. For developments to be valued and to succeed, residents have to be fully consulted and involved. In the absence of a council taking the lead, Whitby Community Network decided to coordinate activity into consulting residents to define which areas of our District require work, so as to define future strategy, and where the area wants to be in, say, 10 years time.
The first stage of this process was to consult with residents about the Whitby Parish to identify the areas to protect and the areas that require development. The consultation was based around a map of the Whitby (Town) Parish, and every participant could then select places in this area, say whether they like / dislike / are neutral about that place, why, and what they would like to see improved in that place. They could also specify if they think the place is suitable for new housing. It's a very simple process, and could be done for as many places as the participant wishes. Note that this was just considering the Whitby Parish in this first phase, as a trial to validate the process we are using, with a view to providing a similar exercise for Whitby District (the 16 surrounding parishes) in a subsequent consultation.
The consultation was open 01-31 May 2023, and was open to all residents of Whitby and District. It is now closed.
Participation was either using an online mapping tool on any internet-connected computer device with a web browser, or manually using simple paper input forms available in key locations around the town (and input from this mechanism was entered into the online system at the end of the consultation).
The consultation was advertised using A4 posters (shown below) placed around the town and limited parts of the District. The manual input was available in Whitby Coliseum, Whitby Spa Pavilion, Eastside Centre, Green Lane Centre, Flowergate Hall, and Kirkham Close Centre, and how to fill it was advertised using an A4 poster (shown below, along with the manual input form).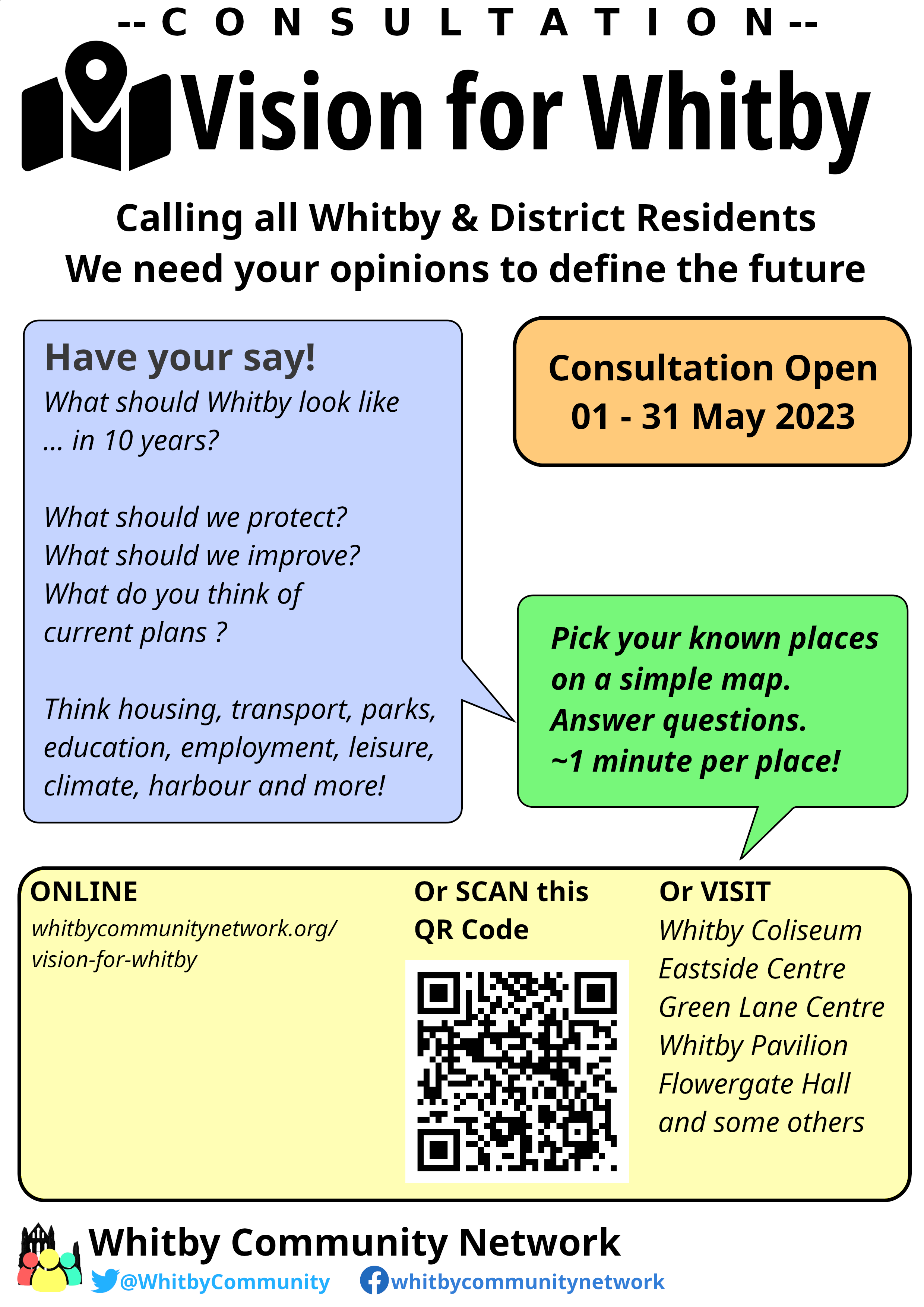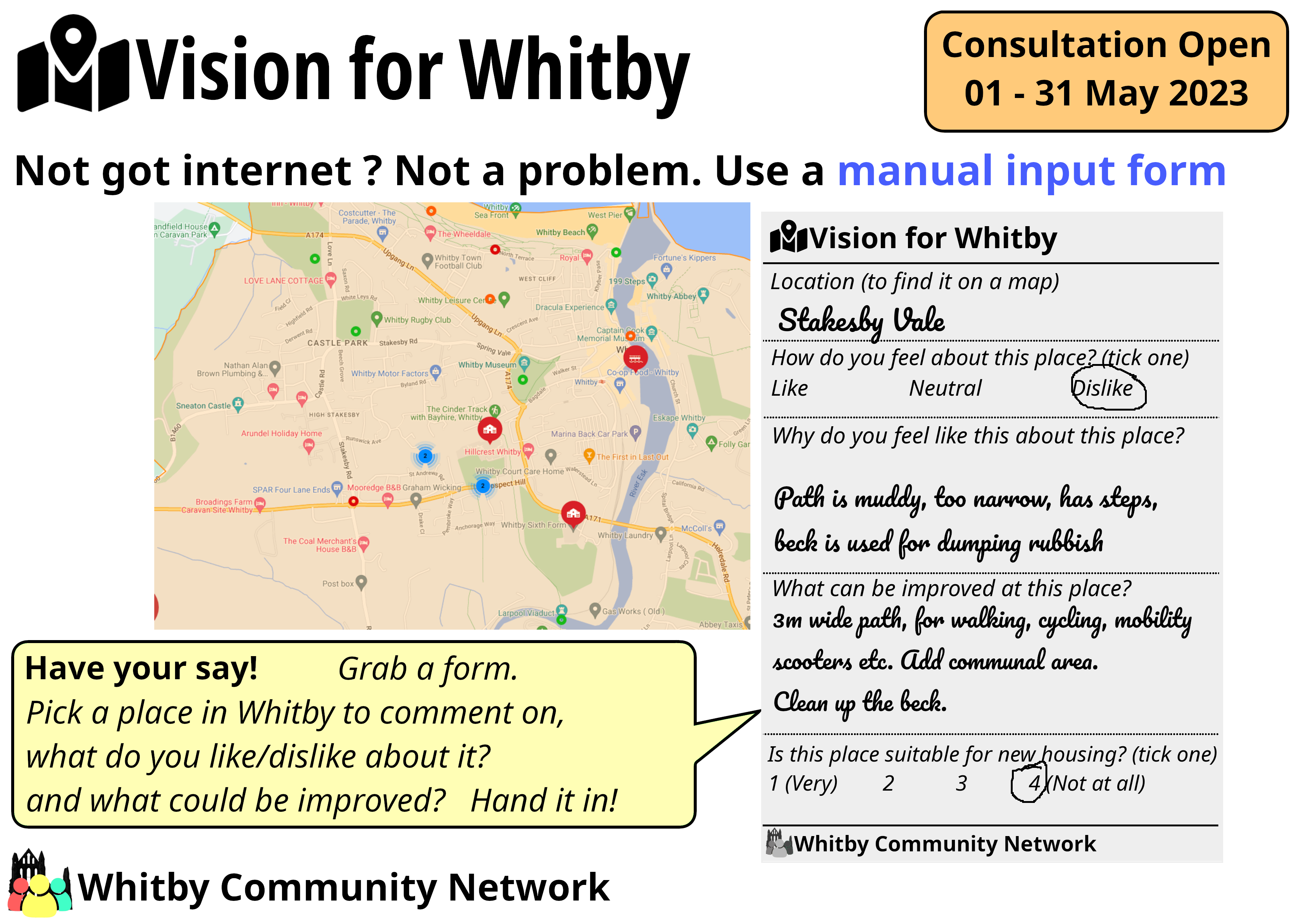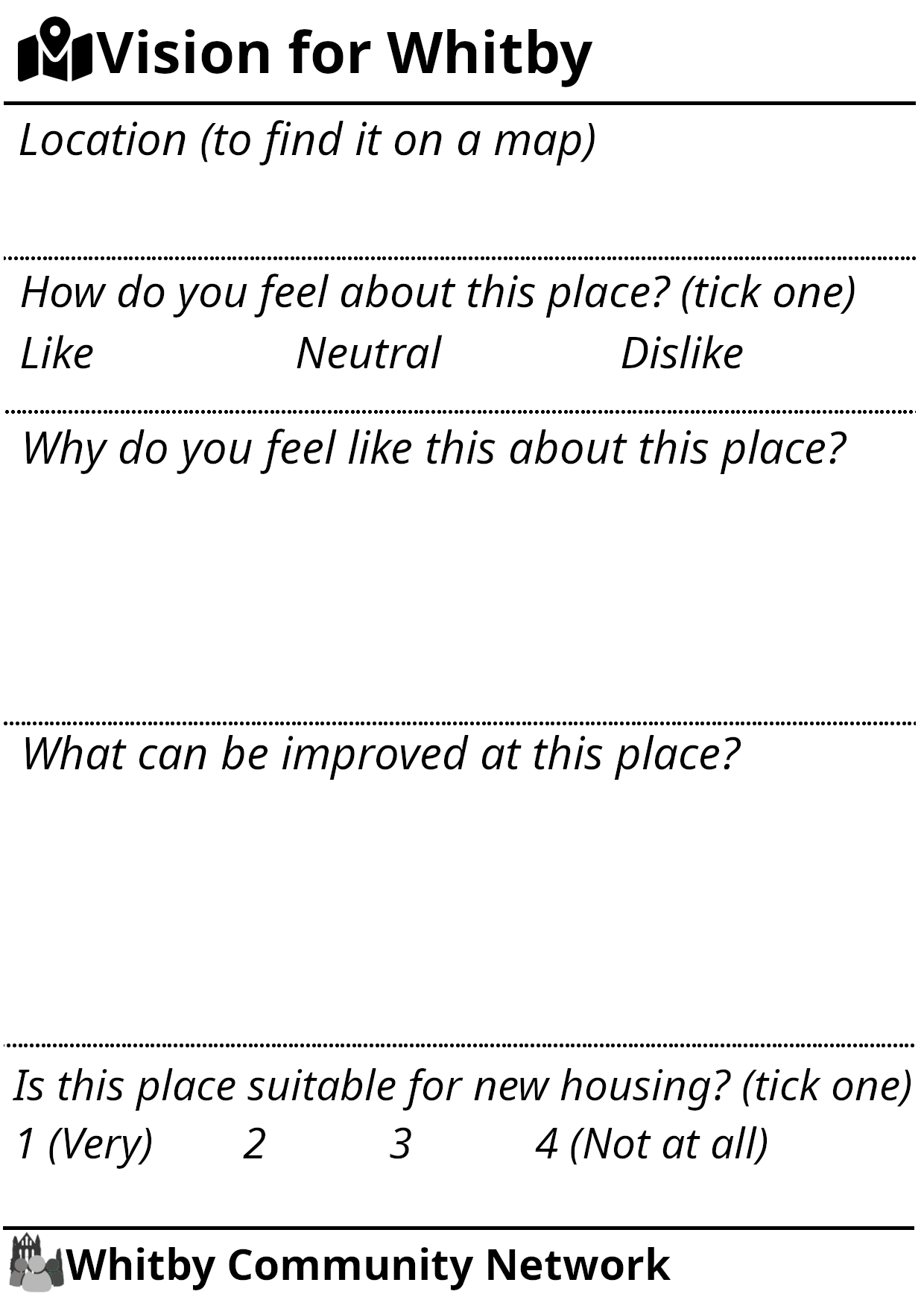 The online consultation used a CreateCommunities map of the Whitby parish, provided by the CreateStreets company. You can get to the consultation map by clicking on the button below.
The online map defaulted to a Road map with road names marked (see this map popup). You could alternately select the Satellite map if that helped you find the place you want easier. The map showed Whitby Parish highlighted in orange, and was based around Google Maps. You could zoom in and see streets etc to find the places important to you. You could even use "Streetview" by clicking on the small person figure and dragging it to the place you want to see (use the "left arrow" at the bottom in the centre to get out of "Streetview").
The dots on the area signify where someone has provided comments; green dots are places people "like", orange dots are places people are "neutral" about, red dots are places people "dislike", and blue/gold/red "radiated" dots with a number are where there are multiple dots at that location (blue = 1-9, gold=10+, red=100+) and you need to zoom in or click to see them.
 The four "special" icons signify fixed locations (educational) that already were under consideration for development. Residents could click on these and have their say on the proposed development. Specifically, we had

Endeavour Wharf – proposed as the site for a Maritime Academy, as part of Town Deal,
Caedmon School Scoresby Site – subject to a proposal for rationalisation of Whitby secondary schools,
Caedmon School Normanby Site – subject to a proposal for rationalisation of Whitby secondary schools,
Eskdale School – subject to a proposal for rationalisation of Whitby secondary schools.
We had a short advertising video for this consultation, for use on social media, along with a short demo video showing how to operate the map.

It was advertised by email to all Whitby Community Network subscribers, as well as on the Whitby Community Network social media accounts along with a series of graphics aimed to provoke the resident into thinking about their town and what they valued. The 18 images utilised are shown below.

The consultation featured in assorted news media. First up was the Yorkshire Post on 15th April 2023 (page 6) with the following

Please watch this space for the results being published. During the coming days and weeks we will provide our analysis of what consultation data, revealing what residents feel should be the future of Whitby Parish.

The results will
be published, in full, on this website, including raw data, to provide complete transparency. It will show how many locations were clicked, and how many connections (people) interacted. Note that the consultation is anonymous.
be analysed to derive a series of headline messages that will provide an overview of the consultation, as well as to define areas of the parish that need protecting and areas of the parish that need development.
provide evidence to back up campaigning, as well as to demonstrate the level of support when requesting funding.
lead to detail consultation with residents on the redevelopment of some areas.
provide an overall assessment of the relative successes and failures in the consultation process, to provide potential improvement in any future consultations.
decide on whether to repeat the exercise but for the surrounding 16 parishes, in conjunction with partner organisation such as the NYMNP.