The health and well-being of Whitby and District residents is dependent on being able to get about their town/villages safely, and with minimal delay. The 2007 Scarborough Borough Council Transport Assessments document states as one of its sustainability objectives "To provide a transport network which encourages the use of public transport, cycling and walking and minimises traffic congestion". As can be seen from our Active Travel analysis, the objective relating to cycling is not being met now, neither was it in 2007. In this section we analyse the objective from the point of view of public transport and traffic, exploring some issues impacting on the town.
Moving to electric vehicles will not resolve problems of personal transportation, since this will result in no fewer vehicles on the road. We need to strongly encourage the use of public transport services, both in getting to/from Whitby, as well as for transport around the Whitby and District area. Sadly the current public transport provided for Whitby doesn't cover all areas (for residents), and longer distance services are slow.
The map below shows the current local transport bus and rail routes for the immediate area. Bus services are provided by Arriva, and rail services are provided by Northern Rail. Please note that the yellow route(s) are the Park-and-Ride service that are only for visitors and will not stop at normal bus stops; this is more frequent (every 10/15 mins) than all of the services for locals (every 30 mins for most), demonstrating where residents are placed in terms of priority by the local council(s).
We currently have a very limited local bus service in many areas of Whitby and District. With an aging population in the town it is essential that there is a bus service close to all residential areas to avoid isolating parts of the community. Local bus routes should reach close to all residential areas, and should also include essential services like Whitby Hospital and local GPs. Consider having a more eco-friendly approach of a regular electric / hydrogen bus on a circular route. Consider also having separate pricing for residents and for visitors. There is a lack of local bus service for the following areas
Castle Park / White Leys area – an option would be to extend the 95 service to take this in. The Transport Assessments SBC document requires housing to be within 5 mins walk of a bus service, which this area is certainly not. The Park-and-Ride bus passes on the way to town centre but does not on the return journey, so would be of little use.
Broomfields Farm development – has no bus service planned currently and is beyond the 5 mins walking distance for the CinderTrack side of the development.
Revamped hospital – this is up a steep hill from the bus station, however the upgrade to the hospital now means that the entrance is even further up the same hill, with no public transport for elderly / less mobile people. This needs remedying.
Stainsacre – this village has no bus service at all, and would benefit from the X93/X94 being routed through the village, being a relatively short diversion from the main road, even if it was on every other bus only.
West Cliff – there is no bus service here (except the Park-and-Ride bus) and so any Whitby resident who is not able-bodied has no way of getting here on public transport.
Longer distance bus/coach services haven't improved over the years. Whitby to York takes 2:25 minimum. Provision of faster, more direct coach services would have the potential to reduce the number of car journeys and the subsequent traffic load on the town. If the county strategy is not to provide Whitby and District with direct longer distance travel options, then the bus service to Scarborough should be upgraded in standard, as it is currently very uncomfortable, and have a more direct faster service, so then people can take advantage of the train services far easier.
Rail services to / from Whitby have been eroded since the 1950s, with the sole external service going via Teesside. Take the sample journey of Whitby to York; this takes a minimum of 3 hours to cover 47 miles whereas Scarborough rail services reach York in 50 minutes. The current service is still having cut backs, see this notification from April 2022 where Northern Rail cut a service. As part of the agreement for the Sirius Minerals (now AngloAmerican) potash mine, an amount of S106 money was paid to fund an extra 3 trains per day, making it 8 trains per day on this line. Sadly the reality is somewhat different, and Northern Rail have cut this back contrary to the agreement due to operational / capacity factors. It is hoped (by AngloAmerican and NYCC) that this would return to 8 services per day (from the current 5) in the (near) future. The latest we have on that is the hope to get back to 7 per day by the end of 2024!

Having a connection to Pickering/Malton would allow connecting to York and onwards, providing substantially reduced journey times. Provision of faster, more direct and more frequent rail services would have the potential to reduce the number of car journeys and the subsequent traffic load on the town. As mentioned above, if the strategy is not to provide Whitby with faster more direct services then a fast direct bus service to Scarborough needs to be provided so that train connections from there can be utilised.

A rural county like North Yorkshire can have a dependency on use of a car for transport. The road network needs to work for vehicles, cyclists, and pedestrians. The road network around Whitby has several locations that are inefficient, and also are not as safe as they could be.
This image displays the road collision data of reported collisions between 2017 and 2021 on Whitby roads. There are some clear hotspots, suggesting issues with road speed and / or road design. An interactive version of this map is available HERE. On this map red signifies FATAL, amber signifies SERIOUS, and green signifies SLIGHT. For reference a fatality costs the UK economy the order of £1.7m, whereas a serious casualty costs around £200k.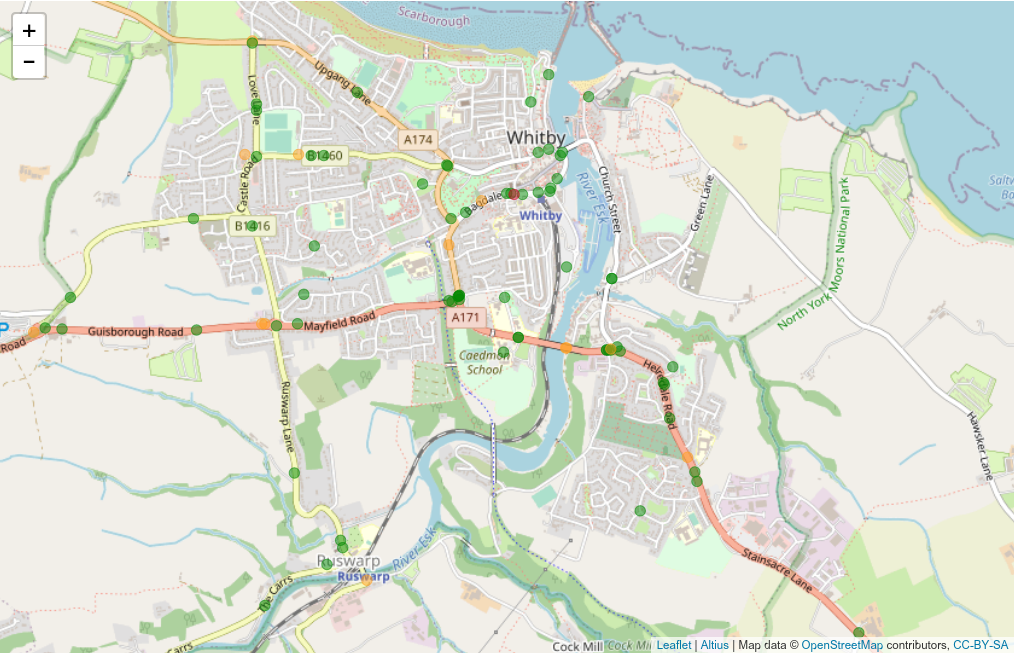 The following areas would benefit from an assessment and redesign to work better for the safety of Whitby and District residents.
Mayfield Road – the problems with this road are many, and traffic backs up along its length for many months of the year.

It has a 30mph limit that is frequently ignored, often by drivers of goods vehicles; as evidenced by the school speed sign that will be triggered every 5 minutes (NYCC, do you have data recorded from this sign?).
The 4-lane-ends roundabout is problematic for pedestrians crossing, with fast moving traffic coming in to Whitby, and having to find a gap in the traffic. Traffic calming measures, and priority for pedestrians would be appropriate. It should also integrate with the proposed cycle path running alongside Stakesby Road, and the other proposed path along Stakesby Vale beck path.
It has no pedestrian crossing between 4-lane ends and the Prospect Hill junction … half a mile (and the crossing at Prospect Hill junction is so slow to change that it disadvantages pedestrians).
The junction with St Andrews Road and Pembroke Way is notoriously difficult to get out of at busy times; this needs redesigning (and when vehicles park on Mayfield Road before the Mayfield Place turn off it makes visibility of oncoming traffic from 4-land ends impossible).
The bottleneck is the traffic light set up at the junction with Prospect Hill and the new bridge (queuing down Mayfield Road in the morning, and queuing up Down Dinner Hill in the afternoons). Wouldn't a roundabout work better?
The associated proposal on this site for a cycle network needs access on to the old farm track (so as to connect to the currently disused bridge over the CinderTrack) and this would need integrating into any redesign.
Outside Caedmon College buses park and offload/load pupils, blocking the traffic; this should be redesigned (to have the bus stop indented and restricted to bus usage only, alternatively provide a better school entry point that buses can enter in to and turn) in conjunction with access to the proposed cycle connection.

Love Lane – Another problem area.

The junction of Love Lane / White Bridge Road and Sandsend Road often has accidents or near misses with traffic coming from Sandsend on a 60mph road not slowing adequately. This needs redesigning, probably with traffic lights and associated pedestrian crossing.
Pedestrian crossing facilities are required. Current Highway Code prioritisation of users has pedestrians at the top, and this is the opposite of what the current design provides for.
Need to integrate the associated proposal on this site for a cycle network, extending the Cinder Track to this junction and down Sandsend Road.
It should be considered to reduce the speed limit on Sandsend Road, it has a couple of corners where it is common to encounter vehicles on the wrong side of the road. Dropping the limit to say 40mph would be beneficial for safety.

Spital Bridge – The junction of the A171 (Whitby New Bridge) and Spital Bridge / Larpool Lane needs redesigning. It was supposed to have a redesign as part of the Town Deal "Bridge Pedestrianisation" after being flagged by many people; a roundabout would make sense.
Ruswarp – Traffic coming down Ruswarp bank is often not prepared for the 20mph zone, and measures should be implemented to reinforce this zone.
Ravine – It is very common to see vehicles down on the sea wall, daytime, or nightime. Vehicular access to the sea wall itself should be restricted, by use of lockable bollards. Camping on the ravine is also quite common, and this area should also have some form of restriction.
Whilst those less able-bodied will often need to come into town by private vehicle (in the absence of a decent local bus service), the town should have a policy of aiming to reduce car parking, and give road space across to the pedestrian / cyclist, and to public transport. As part of this strategy of reducing car parking, the SBC policy of re-purposing of green space to be overflow car parking has to stop. The sheer numbers of tourists in Whitby in busy periods has to be controlled, and restricting use of overspill car parking is one method that could be effective, perhaps with "all car parks full" signage visible when coming in to Whitby.
There have been numerous instances of coaches taking a wrong turn and getting stuck on tight streets (e.g Fishburn Park area), or due to on-street parking. Signage has to be improved, and restrictions put in place to severely restrict the places that coaches can navigate.
During summer months there are very often lines of campervans parked on the Ravine and Sandsend Road overnight. This is contrary to the signage, and is not being enforced by SBC. We need a clear policy, and associated enforcement. Providing more camping sites should be investigated if they are currently near capacity. Investigate use of new laws, like those introduced in New Zealand, about restricting "freedom camping".
The sole Park-and-Ride facility on Guisborough Road is largely ineffective at reducing the amount of traffic in town centre, or of reducing the demand for town centre parking. Expanding the current site could be an option (subject to national park approval), otherwise a further facility is required, likely on the east side of the town, and the best location for this would probably be towards the Abbey Headland, to take traffic coming from the Scarborough direction. Having data about level of utilisation of the current facility would be a start, but NYCC do not keep any meaningful data (from an FOI request)!
The SBC Local Plan (9.12) suggests "provision of cycle facilities at park-and-ride sites" to provide a "modal shift" in transport. NYCC obtained funding for just such a scheme in Active Travel Fund (Tranche 2) and then subsequently realised it would only provide a cycle route down Guisborough Road, and then leave its users at the mercy of the traffic due to the absence of any cycle network in Whitby. The Local Plan suggestion would only be of any value should there first be an active travel network that would reach the centre of Whitby, which there is currently not. That "suggestion" should subsequently be deprioritised until a cycle network is in place.